Your Practitioner
I am a native New Yorker, who moved to Los Angeles in 1987 and have been interested in alternative therapies all my life, studying foot reflexology, acupressure, homeopathy, and eating with the seasons.
In 1992, the State of California granted my Certification and License in Acupuncture and Traditional Oriental Medicine. My treatment plan is finding the right balance for you and teaching wellness.
Focus of Practice
My practice involves proceeding together with you to find a sense of balance and movement in your life, your body, moods, thoughts, and awareness. In addition to treatments, you will be given self-care techniques through either video links or handouts. [See Self Care Tools]
The styles of acupuncture I use are varied and gentle, including Japanese, Classical Chinese, Korean Hand, Traditional Chinese, and European Auricular. The needles are pre-packaged, sterile, and disposable.
Tools: acupuncture, acupressure, cupping, eating with the seasons, electro-acupuncture, gemstone therapies, hand yoga [mudras], movement therapies, moxibustion [heat treatment], sound therapies  [tuning forks and Tibetan Bowls], and using food to balance your mental, emotional, physical, and spiritual needs.
Western techniques such as Myofascial releases are also incorporated into my treatments.
My Passion
I love to see the connections between things, how they all work together: the muscles, the different body systems, the meridians, our thoughts, emotions. I enjoy unlocking the mysteries of the human experience.
And I am passionate about showing these relationships to my clients, through asking for feedback and check-ins, or providing demonstrations of self-care techniques. All to teach people how to hear what their bodies are actually saying.
The approach I use is soothing and unlocking, letting the body guide and direct me in to how to proceed.
What keeps us healthy? Releasing and breathing, stretching and moving, resetting how the structure holds it all together. These are the things you will learn.
Experience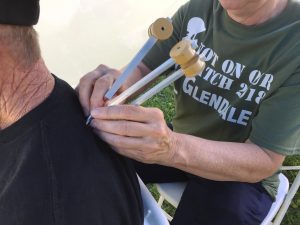 As a graduate of Emperor's College of Traditional Oriental Medicine in 1991 with a Masters degree, I have been licensed by the State of California to practice acupuncture and Chinese herbology since September 1992.
Glendale, California was where I set up my private practice in the beginning of 1993, which continued and developed there for 20 years. The office was moved to a new location in the Atwater Village/Los Feliz area of Los Angeles in 2012.
My most intense studies have been in Classical Chinese Medicine, immunity, the emotional connections to chronic symptoms, ortho-acupuncture and the myofascial components of pain management and relief.
Health maintenance with special emphasis in immunity, alleviation of stress and trauma, life changes, and internal medicine, are my specialties.
My experience also includes providing community-based acupuncture in various clinical settings:
Wellness Clinics at Path Ventures Permanent Housing Facilities in Los Angeles from 2012-2013
Veterans Clinics at Wellness Works in Glendale • 2009-2012
HIV/AIDS Clinics at Wellness Works in Glendale • 2000-2012
HIV/AIDS Clinics at Alive & Well in Glendale • 1994-2000
Wellness Clinics at Hollywood Sunset Free Clinic in Echo Park • 1992-1994
Wellness Clinics are available for Businesses and Organizations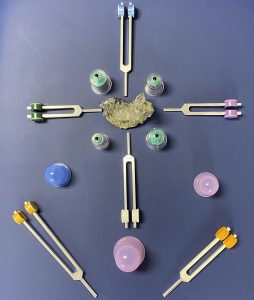 In Wellness Clinics, I offer both education and mini-clinics. Basic balancing self-care techniques are taught and practiced, and acupuncture treatments are provided using Microsystems on the ears and hands.  These clinics occur in group settings, usually in chairs. and are offered to businesses and organizations, for staff or clients. This model allows for 10 to 15 people and lasts about 2 ½ to 3 hours. Contact me at info@elenlauperacupuncture.com if you are interested in this service.